South Interceptor Force Main Project
The South Interceptor Force Main (SIFM) was originally constructed in the early 1960s and has remained in operation for more than 50 years. Due to its condition, it was determined to be unreliable for continued, long term use. Replacement was necessary to convey dry and wet weather flows to the Missouri River Water Resource Recovery Facility (MRWRRF). The new SIFM provides greater reliability and maximizes flow for conveyance to the MRWRRF. Ultimately, this helps minimize the discharge of combined sewage to the Missouri River during wet weather events.
The new SIFM consists of approximately 4,500 feet of 48-inch pipe beginning near Lewis and Clark Landing, south of I-480, and continues south, under Heartland of America Park, to Pierce Street. An additional 18,390 feet of 64-inch pipe begins at the new Leavenworth Lift Station and extends along the river side of the levee system to the MRWRRF. Also included in the project were various other sewers and structures necessary to convey flow to the Leavenworth Lift Station.
The SIFM was constructed in three segments. Construction of south and central segments began in January 2014 and was completed in November 2015. Construction of the North Segment began in January 2015 and was completed in January 2018.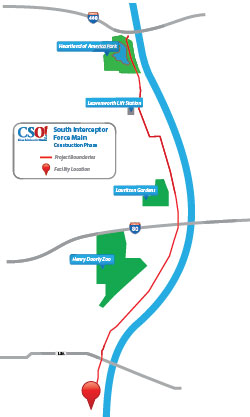 Project Factsheet
Completed Date
North Segment - Q2 2018
Central Segment - Q3 2015
South Segment - Q3 2015
Cost at Completion
North Segment - $33.1 million
Central Segment - $4.86 million
South Segment - $15.8 million
---
Contact Information
City of Omaha
402-444-5220
Contractor
Super Excavators
---
Project References
Project Number: OPW 52223 – South Interceptor Force Main-North Segment
Project Number: OPW 52222 – South Interceptor Force Main-Central Segment
Project Number: OPW 51873 – South Interceptor Force Main-South Segment
LTCP Project Name – South Interceptor Force Main